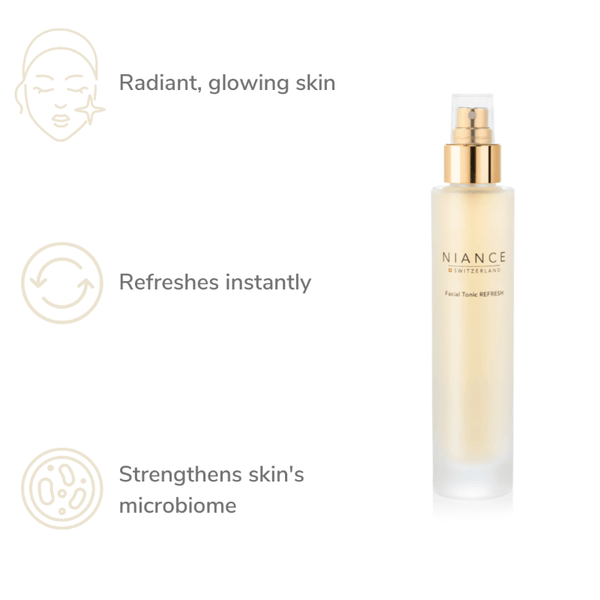 Zoom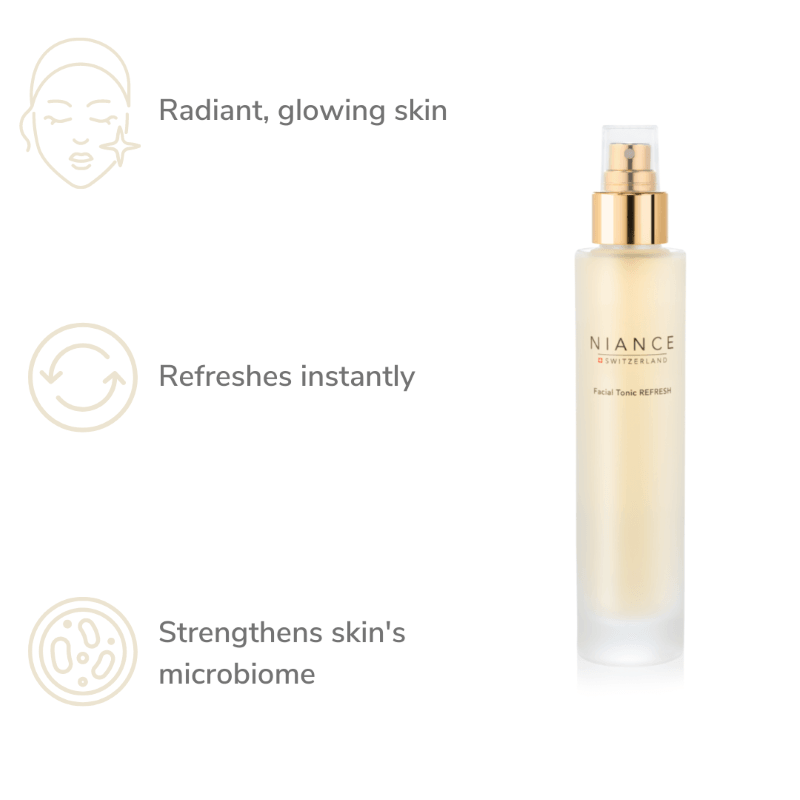 Description
Description
NIANCE Facial Tonic REFRESH is a rejuvenating, cleansing tonic with soothing properties that help mitigate redness and other irritations. Alcohol-free, this toner contains a potent blend of antioxidants that ideally prep your skin for the follow-up skincare routine.
KEY BENEFITS:
Utilizing the central active ingredients from NIANCE Cleansing Milk RELAX, this toner also features highly-concentrated Swiss Alps Glacier Water and the beneficial Hyssop Plant extracts.
NIANCE Facial Tonic REFRESH kickstarts cell renewal, neutralizes, and firms the skin, bestowing a radiant, fresh glow.
Perfectly prepares the skin for subsequent skincare treatments.
Offers astringent, neutralizing, and firming benefits simultaneously.
Delivers robust performance, validated by Swiss Skin research.
Comprises a cocktail of high-tech anti-aging ingredients for enhanced skin rejuvenation.
Boosts cellular activity through high absorption of active substances, promoting skin vitality.
Application
Application
After gentle cleansing (e.g., with NIANCE Cleansing Milk RELAX), apply NIANCE Facial Tonic REFRESH to your face, neck, and cleavage (also suitable for the eye area). Follow up with an appropriate skincare product (e.g., NIANCE Day Care PERFECT or NIANCE Night Care REGENERATE).
Composition
Composition
Saccharide Complex: Enhances skin moisture and texture
Yeast Cell Plasma: Stimulates skin renewal and regeneration
Swiss Glacier Complex®: Offers lasting hydration, maintaining skin freshness
Hyssop-Plant: Contains potent antioxidants, protecting and soothing the skin