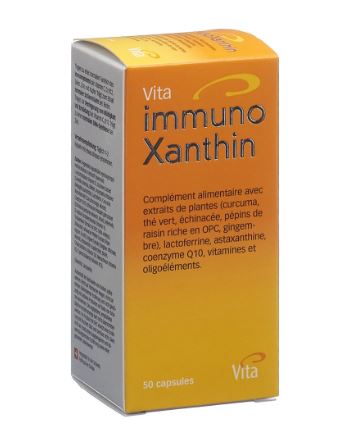 Zoom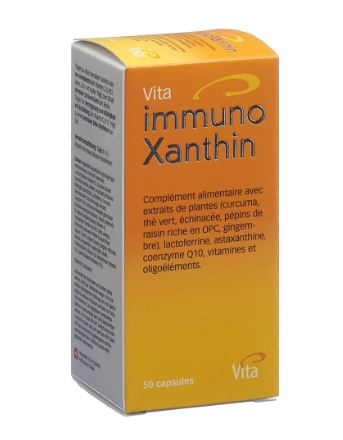 Description
Description:
Enhance your immune system and protect yourself against infections with Vita Immunoxanthin, our powerful food supplement. Carefully formulated with a blend of plant extracts (curcuma, green tea, echinacea, grape seed with OPC, ginger), lactoferrin, astaxanthin, coenzyme Q10, vitamins, and minerals, it helps reduce the risk, duration, and severity of infections. Regular intake, along with a balanced lifestyle, is crucial for optimal results.
Ingredients
Ingredients:
Vegetable capsule shell (hydrodypropyl methylcellulose, color iron oxide)
L-ascorbic acid (vitamin C)
Green tea extract (Camellia sinensis, leaves)
Acerola fruit powder (Malpighia punicifolia or glabra)
Lactoferrin
Curcuma root extract (Curcuma longa, root)
Coenzyme Q10
Echinacea pressed juice dried (Echinacea purpurea Moench, herb)
Selenium yeast
DL-alpha-tocopheryl acetate (vitamin E)
Grape seed extract with OPC (Vitis vinifera)
Zinc acetate
Black pepper extract (Piper nigrum, fruit)
Ginger extract (Zingiber officinale, root)
Astaxanthin
Copper citrate
Biotin
Cholecalciferol (vitamin D3)
Menaquinone (vitamin K2)
Cyanocobalamin (vitamin B12)
Application
Application: Take 1-2 capsules daily with water for optimal immune support.
Additional Information
Additional Information:
Keep out of the reach of children.
Do not take on an empty stomach or during a strict low-calorie diet.
Avoid taking with other green tea-based products simultaneously.
Do not exceed the recommended daily intake.
A product with OPC does not replace a diet of fresh fruits and vegetables.
Not a substitute for a balanced and varied diet and a healthy lifestyle.
Sugar-free, suitable for diabetics.
Lactose-free, preservative-free, gluten-free.
Nutrition Table
Nutrition Table:
| Nutritional Value per 2 Capsules | NRV* |
| --- | --- |
| Green tea extract | 130 mg |
| Curcuma root extract | 100 mg |
| Lactoferrin | 100 mg |
| Echinacea press juice | 50 mg |
| Grape seed extract | 20 mg |
| Ginger extract | 5 mg |
| Pepper extract | 5 mg |
| Astaxanthin | 4 mg |
| Coenzyme Q10 | 50 mg |
| Vitamin D3 | 25 μg |
| Vitamin E | 12 mg |
| Vitamin K2 | 20 μg |
| Vitamin C | 200 mg |
| Biotin | 100 μg |
| Vitamin B12 | 12.5 μg |
| Zinc | 5 mg |