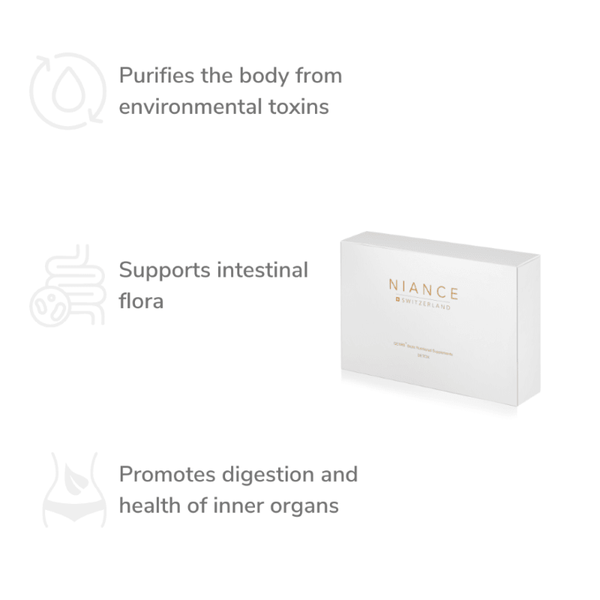 Zoom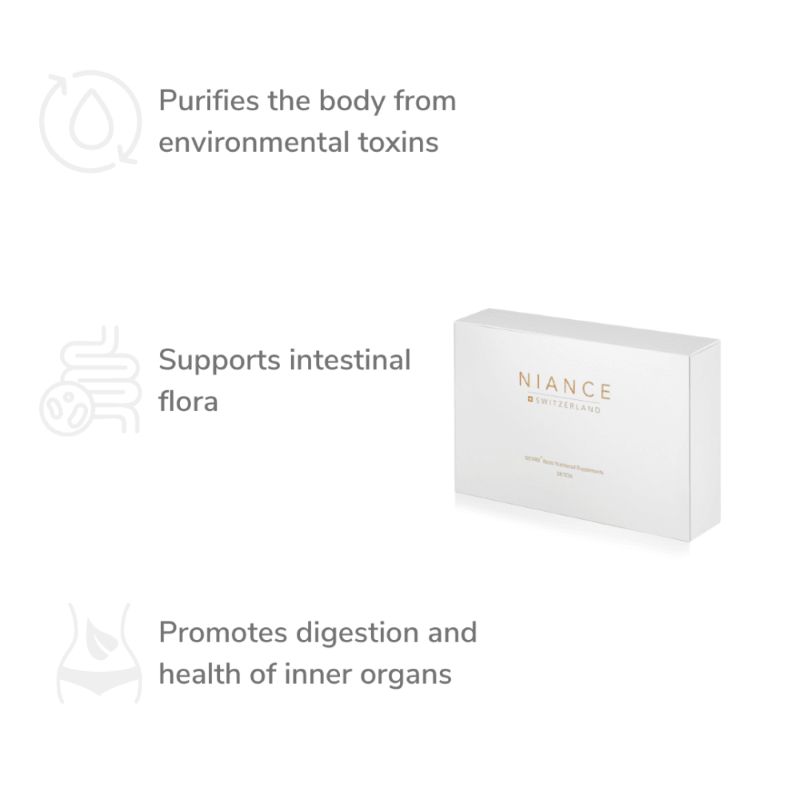 Description
Description
Get the inside right with NIANCE genr8 Biotic Nutritional Supplement DETOX, a 30-sachet solution to support your inner health for an outer glow. Understanding that our surroundings affect our overall health and appearance, DETOX is your 'anti-pollution' wonder, dealing with daily stress.
KEY BENEFITS:
DETOX is loaded with essential natural ingredients such as Fenugreek Seeds, Nettle Leaves, Gentian Root, Verbena, and Angelica Root, all of which stimulate bile flow and strengthen the intestines.
This power-packed herbal shot also serves as a natural antibiotic for the digestive system, cleansing the liver.
The robust 3-in-1 Triple Biotics (pre-, pro-, post-biotics) colonize and strengthen the intestinal flora, while Peppermint, Cleaver, Chicory, and Yarrow cleanse and stimulate appetite.
Enhances the body's detoxifying ability, particularly beneficial for those in high pollution areas or under constant stress.
Facilitates toxin removal from the body, promoting mental wellness.
Supports improved digestion, natural liver cleansing, and detoxification.
Maintains and bolsters inner organ health, contributing to overall wellbeing.
Application
Application
Shake the sachet before consuming. Take one full shot per day, preferably 30 minutes before breakfast, for the best results over 30 days.
Composition
v
Composition
Fenugreek seeds, Nettle leaves, Gentian root, Mallow leaves, Verbena, Bedstraw, Oregano, Peppermint, Yarrow, Green tea, Chicory, Coriander, Yam root, Angelica root, Ginseng root: Herbal blend to stimulate bile flow, cleanse the liver, and support the digestive system.
Lactobacillus rhamnosus, Lactobacillus plantarum, Saccharomyces cerevisiae: Triple Biotics to strengthen the intestinal flora.
Swiss Alpine Water: Pure hydration source.