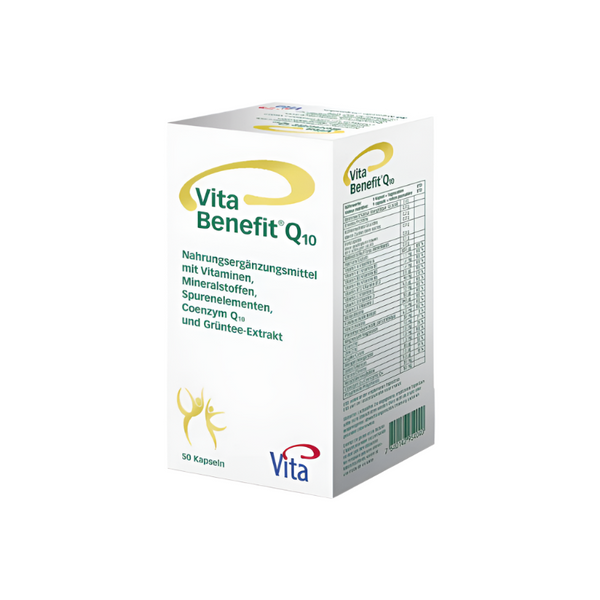 Zoom
Description:
Enhance your daily health regimen with Vita Benefit Q10 capsules - a powerful fusion of 100mg Green Tea extract and 30mg of CoQ10. Our antioxidant-rich formula, enhanced with vitamins A, C, E and trace elements like Selenium, works synergistically to neutralize harmful free radicals and oxygen compounds.
The magic ingredient, Green Tea (Camellia Sinensis), offers potent rejuvenation. Known for its Polyphenols (especially catechins), numerous studies have attested to its health benefits, particularly in bolstering the immune system. Green Tea effectively combats fatigue and tiredness, protects against UV harm, promotes cell regeneration, and aids in slowing the aging process.
Vital to our blend is CoQ10, a vitamin-like substance essential to cellular energy found naturally in our bodies. Its levels decline as we age, but a regular supply, such as found in Vita Benefit Q10, can support your heart, nervous system, metabolism, and immune system.
Application:
For optimal benefits, take 1 capsule per day with some liquid.
Composition:
The ingredients include Vitamins (Vitamin C, Niacin, Vitamin E, Pantothenic Acid, Vitamin B6, Vitamin B2, Vitamin B1, Vitamin A, Folic Acid, Biotin, Vitamin D, Vitamin B12), 14% Green Tea extract, Magnesium Oxide, Iron Sulfate, Maltodextrin, Coenzyme Q10, Selenium Yeast, Calcium Phosphate, Zinc Oxide, Manganese Sulfate, Copper Sulfate, Chromium Chloride, Sodium Molybdate. It is gluten-free, lactose-free, and proudly made in Switzerland.
| | |
| --- | --- |
| Size | 120 capsules, 50 capsules |