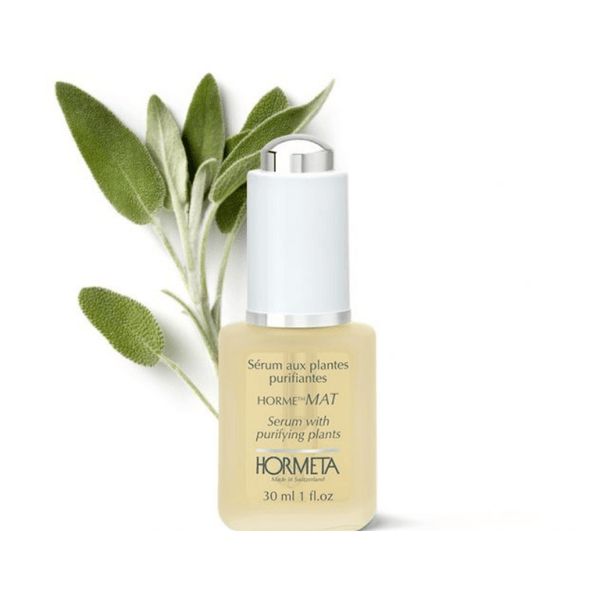 Zoom
Description
Hormeta mat serum with purifying plants 30 ml
The purifying gesture enriched with sebo-regulating active ingredients that help keep the surface of the skin clearer. HormeMAT products provide the key active ingredients to regulate sebaceous secretion and prevent bacteria's development, while refining skin texture and matifying the complexion.
- Purify the surface of the epidermis.

- Visibly shrink pores.

- Refine skin texture and smooth imperfections.

- Mattify and even out skin tone.
Application
A targeted serum for oily skin prone to impurities, enriched with purifying active ingredients that help keep the surface of the skin clear and cleansed. Skin is rebalanced: pores are less visible and shiny zones are mattified. The complexion is more even and skin is more beautiful and radiant than ever. 
Apply morning and/or evening to a thoroughly cleansed face and neck. Leave to ensure it penetrates the skin before applying the appropriate cream.
It is an ultra-lightweight texture for a non-sticky finish.
Composition 
- HORMETA Oligocos 5 complex (Hydration, protection, repair)
- Salicylic acid and acacia gum complex ( Smooths rough patches and regenerates skin)
- Purifying plant based complex ( Astringent, sebum-regulating properties)
- Organic willowherb extract ( Anti inflammatory and antibacterial)
Complementary products
Hormeta mat purifying mask
For oily skin or small pimples, impurities, recommend the application of the Purifying Plant Serum followed by the Purifying Mask (Sulfur, Charcoal, Zinc), pause for 15 minutes then rinse. Ideal for cleaning, purifying, mattifying. The serum can also be used under the Moisturizing Gel-Cream (this airy gel is appreciated by combination or oily skin, plus it prevents dehydration of these skins which are often too stressed).