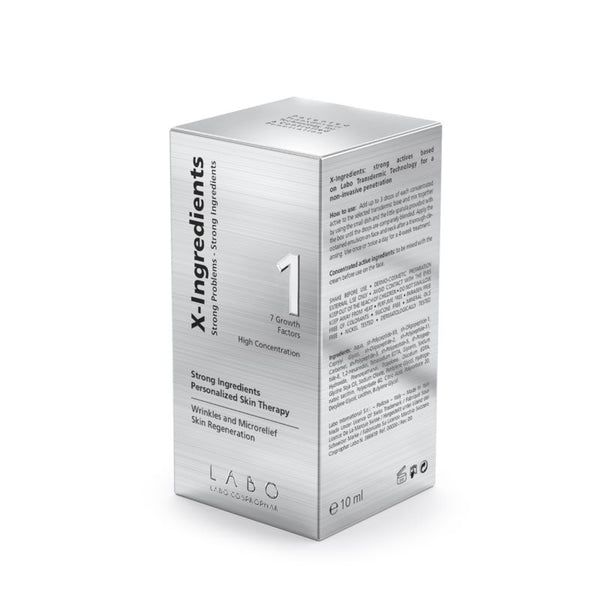 Zoom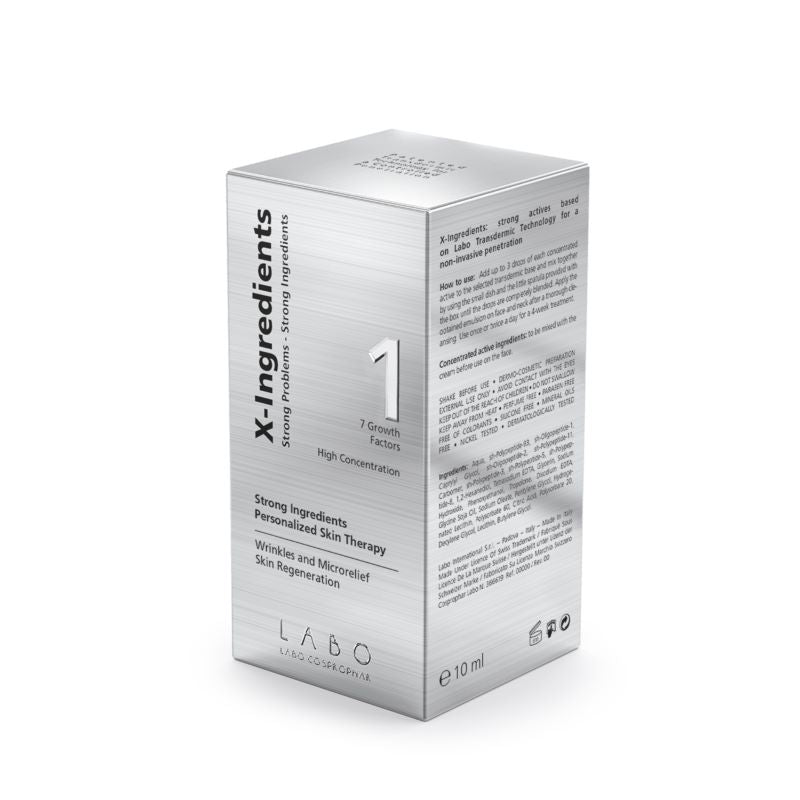 Description
Labo Suisse x-ingredients 1 : 7 growth factors
Strong Problem - Wrinkles and Microrelief
Strong Ingredients - 7 Growth Factors

Skin Regeneration
Lines and an uneven microrelief are caused by the skin's ageing process, which depletes the tissues, creating visible lines and a disorganized structure at the surface of the skin.
X-Ingredients 1 contains a high concentration of 7 Growth Factors, dermo-cosmetic synthetic Plate-Like molecules similar to the endogenous ones (sh- Polypeptide-93, sh-Polypeptide-11, sh-Polypeptide-8, sh-Oligopeptide-1, sh-Polypeptide-3, sh-Polypeptide-5, sh-Oligopeptide-2). They play a fundamental role in helping the reactivation of skin regeneration mechanisms, counteracting the slowdown of epidermis cellular turnover and the depletion of the dermal structures. The resulting effect is a reduction in the number of wrinkles and the smoothness of a renewed skin surface. Transdermic Technology molecules.
Application
Strongly recommended to apply together with Labo Suisse X - ingredients transdermic bases emulsion. Additionally for specific function, please apply X - ingredients extra help.
Composition

sh- Polypeptide-93, sh-Polypeptide-11, sh-Polypeptide-8, sh-Oligopeptide-1, sh-Polypeptide-3, sh-Polypeptide-5, sh-Oligopeptide-2