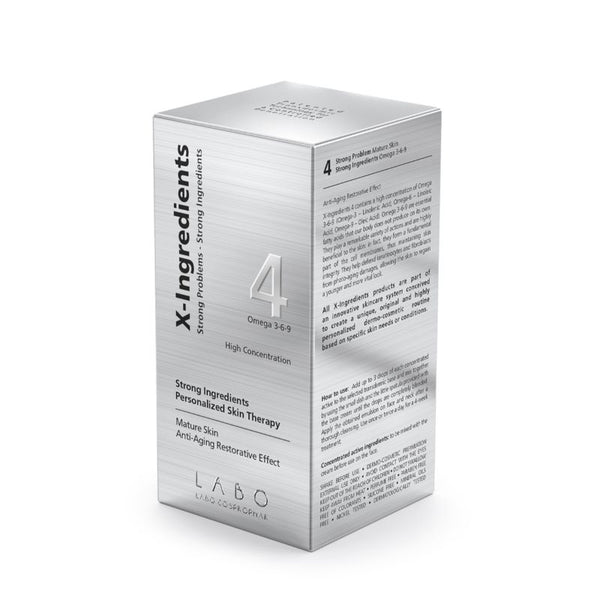 Zoom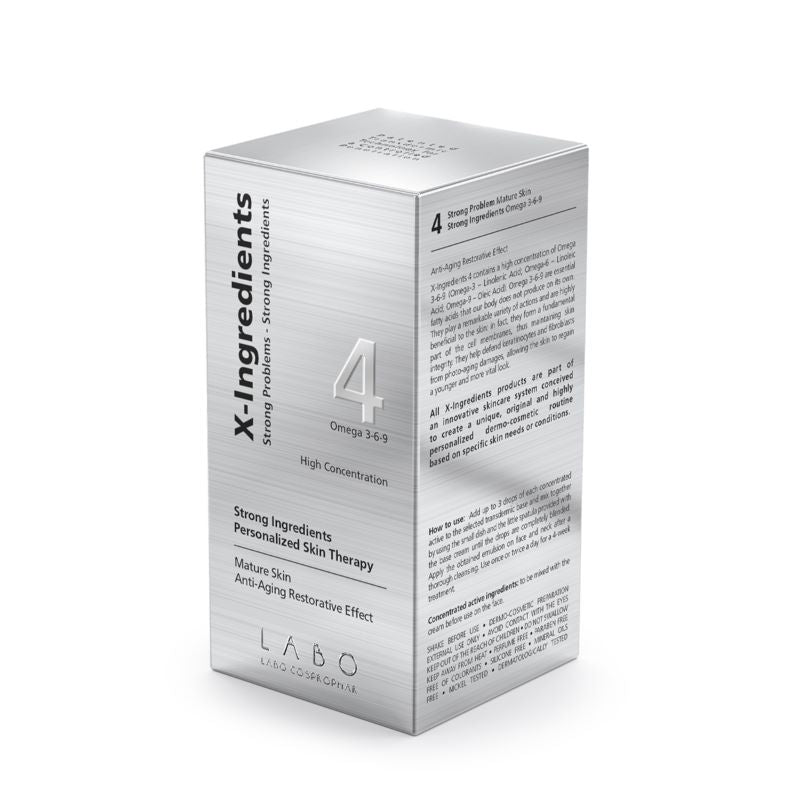 Description
Labo Suisse x-ingredients 4: omega 3-6-9
Strong Problem - Mature Skin, Anti-Aging
Strong Ingredients - Omega 3-6-9

Anti-Aging Restorative Effect
Mature skin presents multiple problems connected to chronological ageing, as well as photo-ageing, which mainly manifests on the skin's surface. The skin cells are not able to develop their physiological activity in the way that younger skin does; the regenerative processes are slowed down and the skin looks devitalised, damaged and wrinkled.
X-Ingredients 4 contains a high concentration of Omega 3-6-9 (Omega-3 – Linolenic Acid; Omega-6 – Linoleic Acid; Omega-9 – Oleic Acid). Omega 3-6-9 are essential fatty acids that our body does not produce on its own. They play a remarkable variety of actions and are highly beneficial to the skin: in fact, they form a fundamental part of the cell membranes, thus maintaining skin integrity. They help defend keratinocytes and fibroblasts from photo-aging damages, allowing the skin to regain a younger and more vital look. Transdermic Technology molecules.
Application
Strongly recommended to apply together with Labo Suisse X - ingredients transdermic bases emulsion. Additionally for specific function, please apply X - ingredients extra help.
Composition

contains a high concentration of Omega 3-6-9 (Omega-3 – Linolenic Acid; Omega-6 – Linoleic Acid; Omega-9 – Oleic Acid)