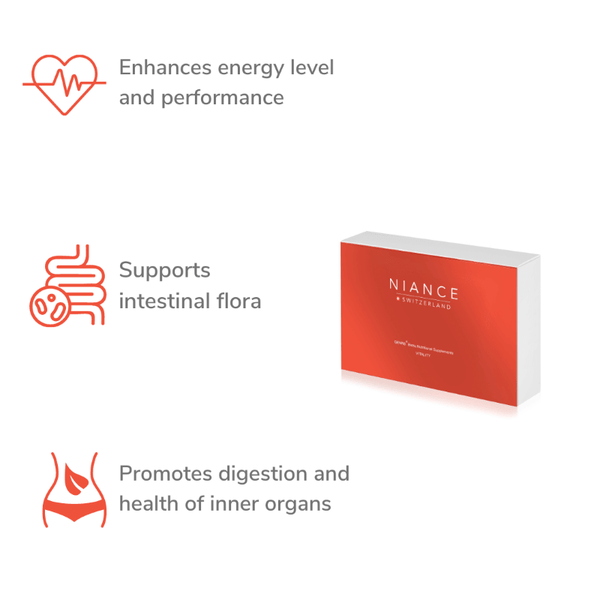 Zoom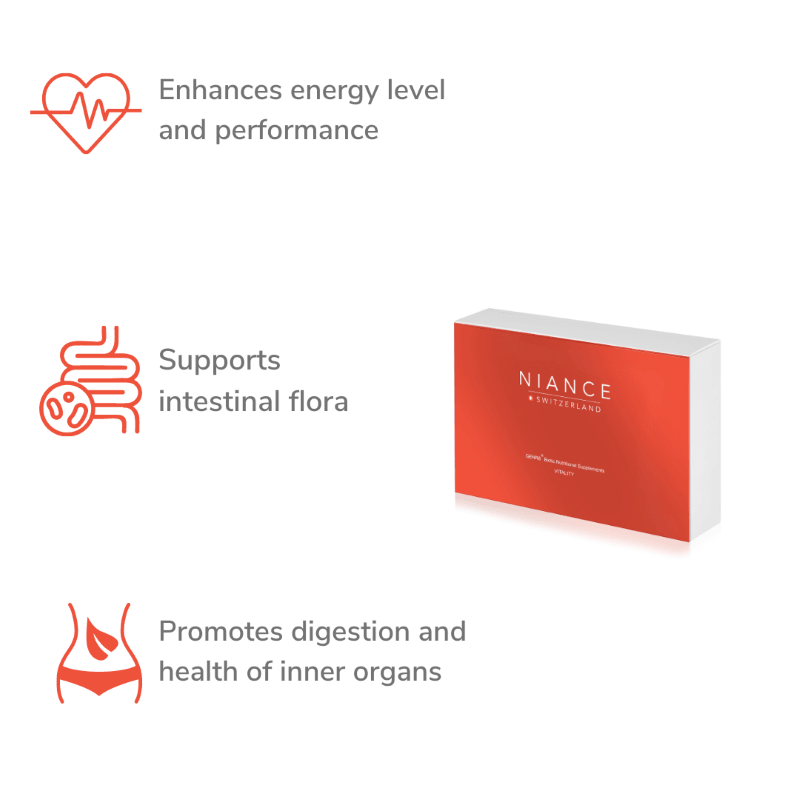 Description
Description
Boost your stamina and overcome the daily grind with NIANCE genr8 Biotic Nutritional Supplement VITALITY. This immune supplement, presented in a convenient 30-sachet set, provides all-day vitality and enhances your well-being and longevity.
HOW IT WORKS:
VITALITY is a nutritional supplement that is presented in the form of a pure herbal shot. This powerful concoction is made with high concentrations of fermented herbs and bitter substances. It contains an array of natural ingredients, including Brazilian Guarana, Yerba Mate, Pomegranate Seeds, Rose Hips, and Black Elderberries. It also features Triple Biotics (pre-, pro-, post-biotics) to support the colonization and strengthening of your intestinal flora.
In addition to these carefully selected herbs, fruits, and flora, VITALITY also includes the 3 golden roots: Himalayan Rose Roots, Korean Ginseng Roots, and Swiss Alpine Gentian Roots. These elements create a potent blend that will help you power through your daily activities, come rain or shine!
KEY BENEFITS:
Boosts energy levels.
Enhances immunity and promotes mental wellness.
Stimulates a healthy immune system response.
Improves mental agility, learning ability, and memory.
Ideal for people with busy and demanding lifestyles.
Fights off fatigue.
Promotes longevity and well-being.
Application
Application
Shake the sachet before consumption. Carefully open it and take one full shot per day, preferably 30 minutes after lunch. For best results, use daily for prolonged periods.
Composition
Composition
Gentian root, Barley grass, Pomegranate seeds, Rose hips, Quinces, Black elderberries, Ginseng root, Guarana, Yerba mate, Ginkgo leaves, Rose root: A blend of potent herbs, fruits, and roots known for their health benefits.
Lactobacillus rhamnosus, Lactobacillus plantarum, Saccharomyces cerevisiae: Triple Biotics that strengthen the intestinal flora.
Swiss Alpine water: Pure hydration source.