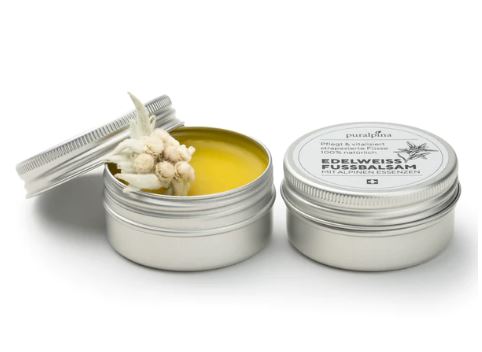 Zoom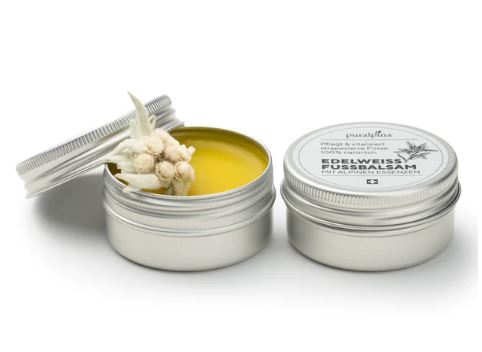 Édelweiss Foot Balm 30ml
Embrace Alpine Freshness for Revitalized Feet!

Description:
Indulge your feet with the refreshing care of our 100% natural Édelweiss Foot Balm, infused with the invigorating scent of the Alps. Let your feet explore the world with renewed flexibility, energy, and enthusiasm. This artisanally crafted foot balm is made with beeswax from the Bernese Oberland, wheat germ oil, pine resin, and other high-quality ingredients.

At Frutigen, we personally develop and produce the Édelweiss Foot Balm with meticulous attention and patience. This ensures absolute control over the carefully selected ingredients we use. Good things don't always come from far away. Inspired by time-honored local recipes known for their effectiveness across generations, our foot balm is made from natural raw materials sourced from the Alps. We strive to procure as much as possible from our immediate surroundings. Our herbs and flowers are predominantly grown in the Kandertal region of the Bernese Oberland, providing valuable sustenance for wild and honeybees.

Experience the power of nature in a convenient 30ml size. Treat your feet to the best that the Alps have to offer with Édelweiss Foot Balm. Order now and let your feet embrace the alpine sensation!
Application:
Apply the balm to your feet and massage it in. Allow it to penetrate for a few minutes. Small amounts are sufficient as this natural foot balm boasts concentrated effectiveness.
Before applying the balm, take a moment to relax with a soothing foot bath. Warm your skin to enhance the absorption of the precious ingredients.
Ingredients:
Canola oil*
Grape seed oil
Beeswax
Lanolin
Wheat germ oil
Mountain houseleek
Lemon*
Spruce resin
Rosemary*
Mint*
Thyme*
Edelweiss
Propolis (*organic)
Made exclusively from natural raw materials sourced from the Alps. We procure ingredients from our local surroundings whenever possible. We produce certain alpine essences ourselves, such as edelweiss extract or mountain houseleek extract. Our pine resin also comes from the forests of Kandertal.